Japanese for Busy People is published by AJALT, the Association for Japanese-Language Teaching. This is a long standing series of three textbooks. Each textbook has an accompanying workbook.
There is also a special app available for android and iOS to help studying the dialogues and conversations of Part I.
Available to download from the AppStore and Google Play.
iOS version: Use the keyword "AJALT" to look for the app.
Android version: Use the keyword "Japanese for Busy People" to look for the app.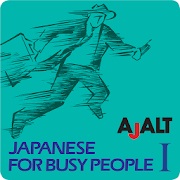 Also Part I is available written totally in alphabet (subtitled Romanized Version)
For real beginners there is a special workbook to learn the special Japanese writing systems of hiragana and katakana (together often called just 'kana').